Postcards, Rack Cards and Business Cards
(Get a Price with Instant Postcard Quote, Instant Rack Card Quote, Instant Business Card Quote)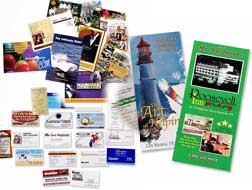 About Cards
Postcards most common sizes are 4"x 6", 5"x 7" or 5.5" x 8.5". Rack cards are usually 4" x 9". Business cards are 3.5 "x 2". Color choices range from one color to full color. Cards are the easiest of print publications to design, the least expensive to print and for postcards and rack cards, the cheapest to mail.
Postcards
Postcards are frequently used to promote new products or services, as well as announce upcoming conferences, sales, seminars and open houses. Extremely inexpensive to mail and print, postcards make an effective direct mail campaign affordable to virtually everyone. Print your postcard in vivid full color to achieve the response you need and want for your products, services or events. Just click to get an Instant Price Quote for your postcard.
Rack Cards
All of us, who have ever traveled and stayed in a hotel or motel, have seen those racks full of cards in and around the lobby. Rack cards advertise nearby attractions, restaurants and points of interest. A well designed rack card printed in full color by CMYK Graphix will have them at your door step in larger numbers than you ever imagined. Just click to get an Instant Price Quote for your rack card.
Business Cards
Make that all important first impression a powerful and lasting one with full color business cards from CMKK Graphix. We offer both high quality 100# gloss cover as well premium 80# uncoated cover stock to achieve the impact that customers and prospects alike will remember. Just click to get an Instant Price Quote for your business card.